SUPER TYPHOON RAI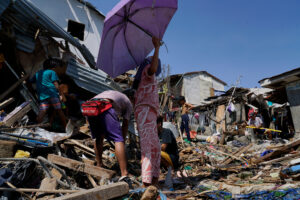 On the night of December 14th, Typhoon Rai made landfall in the Philippines (locally known as Typhoon Odette). The typhoon devastated multiple provinces across the central and southern portions of the Philippines with sustained winds of 195 km/h and gusts of up to 260 km/h. The damage is so intense that hundreds have lost their lives, thousands have lost their homes and even more are currently experiencing water and food shortages. Even now, one week after the disaster, many are still cut off from relief operations.
Our field volunteers in the Philippines have described the situation as "absolute devastation", as families are having to worry about finding food to eat and water to drink just to make it through this week.
ACTION TAKEN BY AIDE PHILIPPINES
Food and drinking water are the most critical items that are urgently needed right now. On December 30th and 31st, Aide Philippines will be distributing drinking water, rice, canned food and other relief goods to over 320 families. The relief distribution operation will be implemented in Mantalongon, Dalaguete. This is a remote and mountainous area in the southern portion of Cebu that has been directly hit by the typhoon.
Aide Philippines is also planning to perform a follow-up relief good distribution in the following days. Our primary focus will be on providing relief to remote locations that are often missed by other relief operations. We are currently working with our field volunteers and will continue to provide everyone with updates on when and where the next relief operation will take place.
WHAT YOU CAN DO TO HELP
Aide Philippines is asking for assistance in our efforts to continue to provide aid and relief to the victims of Super Typhoon Rai. Any amount that you can give will be instrumental in continuing the relief operation.
To help, please use the link below or visit our Facebook or website
This QR code generates our phone number for Payconiq
or use our phone number +352 621 679 414 to make a donation via Payconiq (Digicash)
Aide Philippines' donation account is:
LU91 0030 5776 5958 0000 BGLL – Aide Philippines